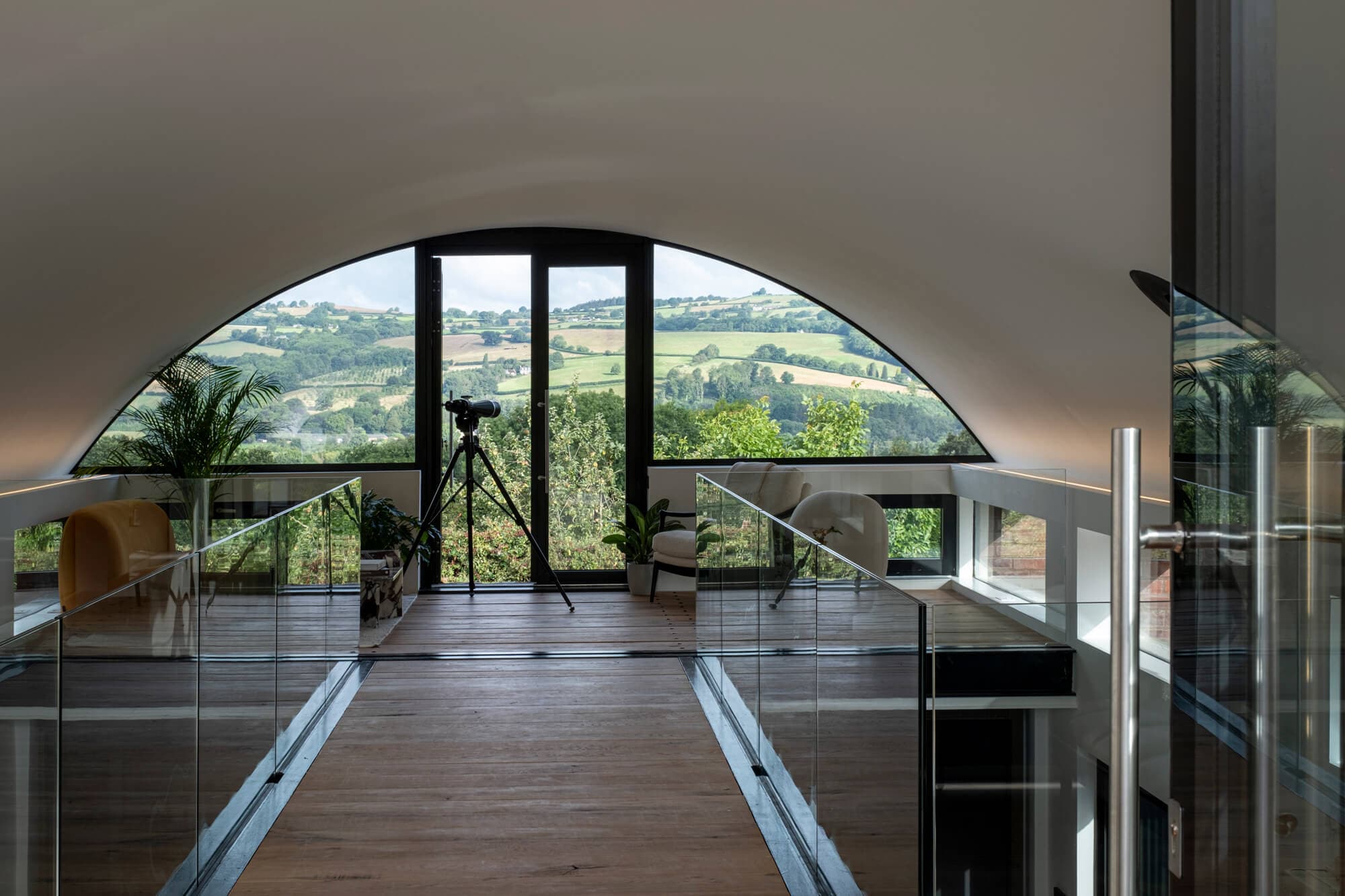 Clifford Reservoir
Residential Conversion of Redundant Reservoir Building, Wye Valley
The 'Old Clifford Reservoir' is located south of the River Wye to the east of Clifford. The overall site comprises a pair of farmland fields bounded by hedgerows, totalling in the order of 15 acres, which fall in a gentle slope from the south-east to the north-west of the site.
The client approached LOYN + CO to establish if a redundant covered reservoir within their farmland could be converted to create an unusual new home in the beautiful Wye Valley. This unique opportunity required care and sensitivity, due to the Planning Policy limitations and rural location. The existing structure was constructed in the early 1900's to store water from a nearby spring to supply the small village at the base of the valley. Decommissioned in circa 1970, this interesting building set within the agricultural landscape had been used for storage ever since. The existing building comprises a curved, barrel roof with a large underground 'tank' below.
In conjunction with Geraint John Planning a feasibility study for the conversion and extension of the structure was positively received by the Local Planning Authority including the Heritage and Landscape Officers. The proposal involves stripping back the later modifications to the building and sensitively converting the existing structure with voids into the 'tank' below. The volume of the existing space, the curved roof and depth of the reservoir is to be expressed internally so that the existing buildings history continues to inform its proposed future use. The reservoir will be the entrance to the home and houses the main kitchen and living space. The interior treatment, including materials and layout will respect the building's original form and references to the heritage of the building and in particular water play a central role in the unique design.
Excavations to the east of the existing building will create a direct link from the 'tank' to a new 'water courtyard' that contains the residential curtilage and creates a sheltered haven with views out to the valley beyond. A new extension, subservient to the existing building provides bedroom accommodation and a glazed dining room connects the two structures. Developed in Conjunction with SEED Landscape the courtyard creates a sheltered space full of planting whereas the entrance track and path leading to the house is purposely rural maintaining the current landscape setting so that, from the public highway, the changes to the structure are very subtle.
The conversion of the structure will ensure its longevity and preserve its heritage value and its future as well as create a new home in the rural community in a sustainable manner by reusing the existing building.
The Construction of the new home is being followed by Grand Designs and is due to complete in 2021.
Client:

Private

Meterage:

250m2

EPC:

XX

Completed:

Completed November 2022