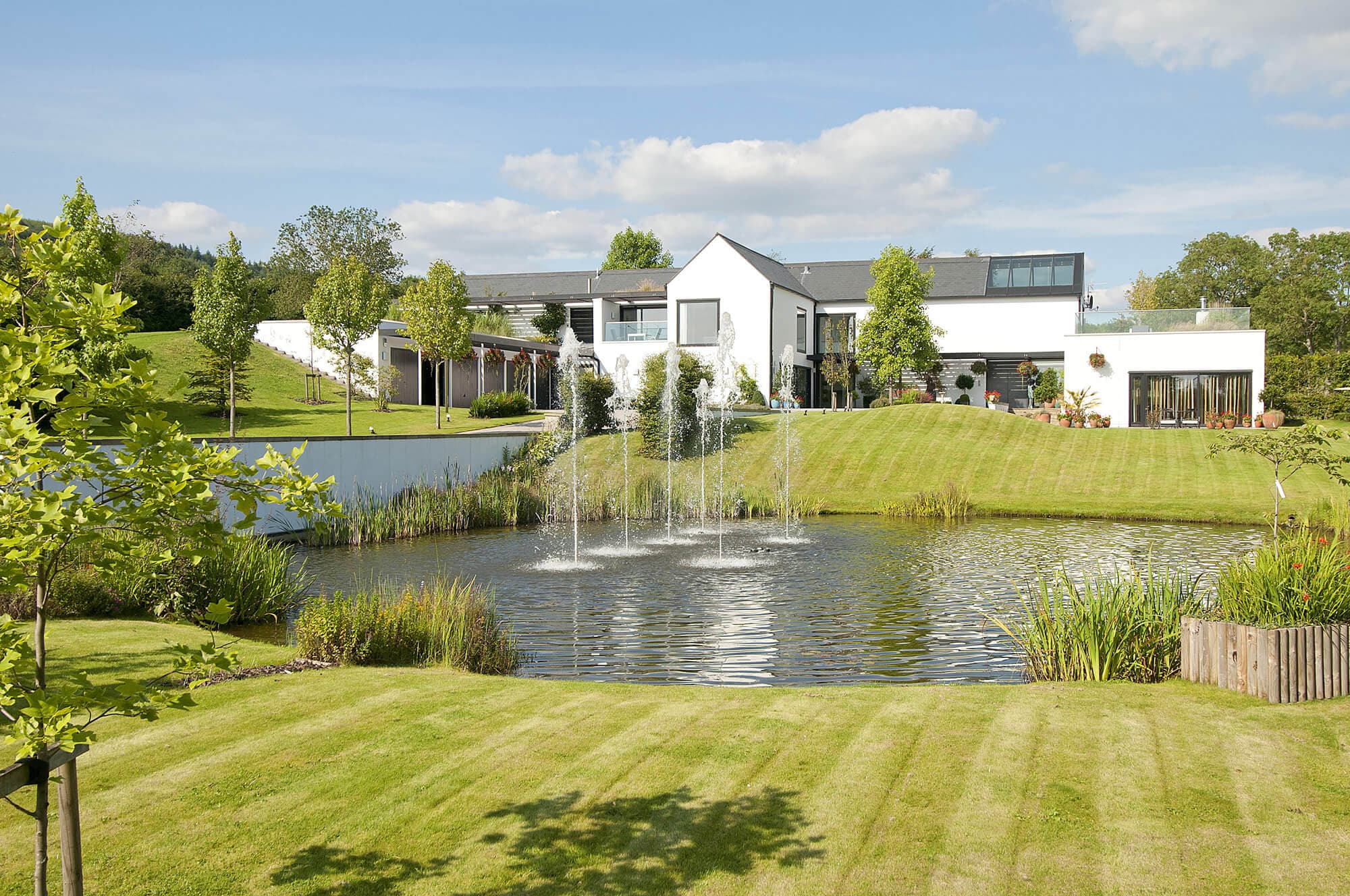 Fairoak Farm
Replacement Dwelling, Cardiff
The brief for Fairoak Farm began with our client's aspirations for a purpose built luxury home and developed into the implementation of a site wide masterplan for the 15 acre site, situated within the Cardiff Countryside. Due to the sensitivity of its setting, proposals were developed from the outset in close liaison with the Landscape Architects. Through a detailed site analysis and interrogation of the brief it was agreed that the design should be organised around two main axis connected by key landscape features. The first axis runs from SW to NE through the bronze entrance doors, connecting the two bodies of water: pond and horizon level swimming pool. The second axis, perpendicular to the first, is defined by the principal circulation spine of the dwelling. It runs directly from the boundary of the west field, through the house, nd brings you to the tennis court and landscaped path beyond.
Inspired by a Welsh longhouse this contemporary home with fully automated building management system, comprises extensive modernization and extensions to an existing farm house and grounds. The remodeled existing farmhouse includes a living room, dining room, entrance halls, gym, steam room, snooker room, office, library, reading room, kitchen, cinema room, bar, five en-suite bedrooms, two storey plant-room, lift, four roof terraces and outbuildings including a pavilion, 25m long pool sauna and changing facilities. Sport facilities also include a tennis court, five-hole golf course, cricket nets and golf driving range. The project included detailed design and co-ordination of a full interior, furniture and fit-out package.
There are large scale landscape works, including an extension to the lake at the front of the house, a tree orchard, lime grove, secluded areas of seating, future stables, helicopter pad and garage for five cars, car wash facilities and new driveway, entrance courtyard with automated gates and complete ANPR site security system.
Client:

Private Client

Meterage:

1900 m². 15 acre site

Completed:

Completed 2008