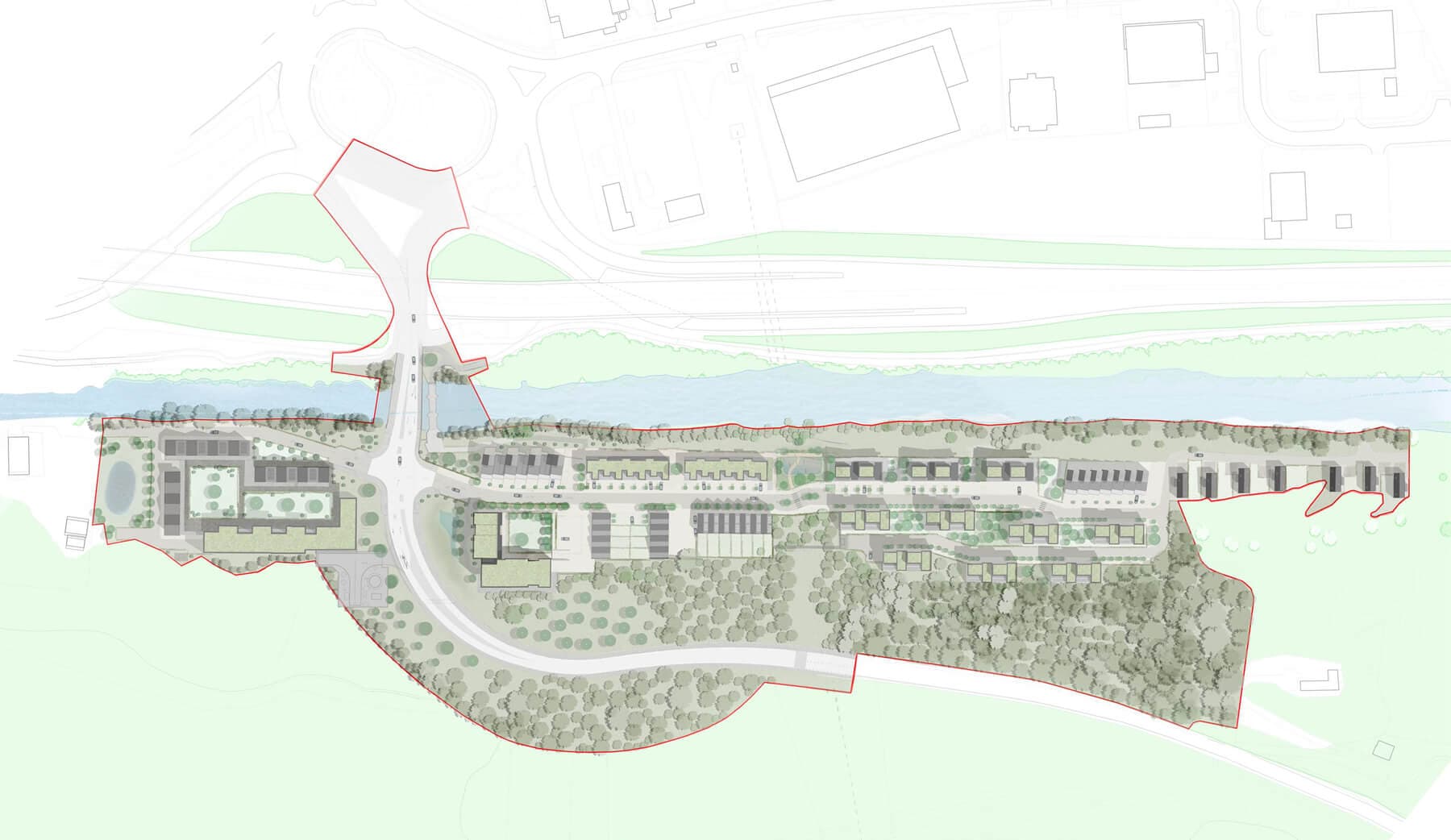 leckwith
250 new dwellings
The proposal at Leckwith Quay seeks to develop an unsightly brownfield site into a distinctive, sustainable and attractive place to live. It will provide up to 250 dwellings of varying typologies, with a new road to replace the part of the B4267 that runs through the site.
The site at Leckwith Quay is situated on a boundary - not only between The Vale of Glamorgan and Cardiff, but also between urban and rural, river and woodland, high density and low density. It is a site 'in-between' conditions, affording it the unique opportunity to become a distinctive place, with its own special character. The design process has been driven by the desire to create high quality places to live. Each dwelling is considered in relation to orientation, views, acoustics, access, amenity space, ecology and the environment.
Leckwith Quay will become a place of unique character, where people can take a walk along the riverside and through the ancient woodland on the same journey. A variety of dwellings are situated here, from riverside townhouses, to duplex dwellings and family homes.
The site provides legible and well-connected routes for pedestrians and cyclists, with direct links on to the Ely trail leading to Cardiff Bay.
The development sits between the river to the East and the woodland hillside to the West, with a series of wooded corridors running between these two elements, helping to divide the site into 3 distinct character areas: The Quadrangle, The Riverside and The Woodland.
The density of the proposal reduces along the length of the site with each character area providing a lower density than the previous and clearly demonstrating the shift from the urban city district, to the East of the site, to the rural Vale to the West. The shift also occurs across the width of the site with the plot locations and organisation becoming more fragmented from East to West.
The outline design was submitted for planning in October 2020.
Client:

Private

Meterage:

8 Hectares

Completed:

Ongoing