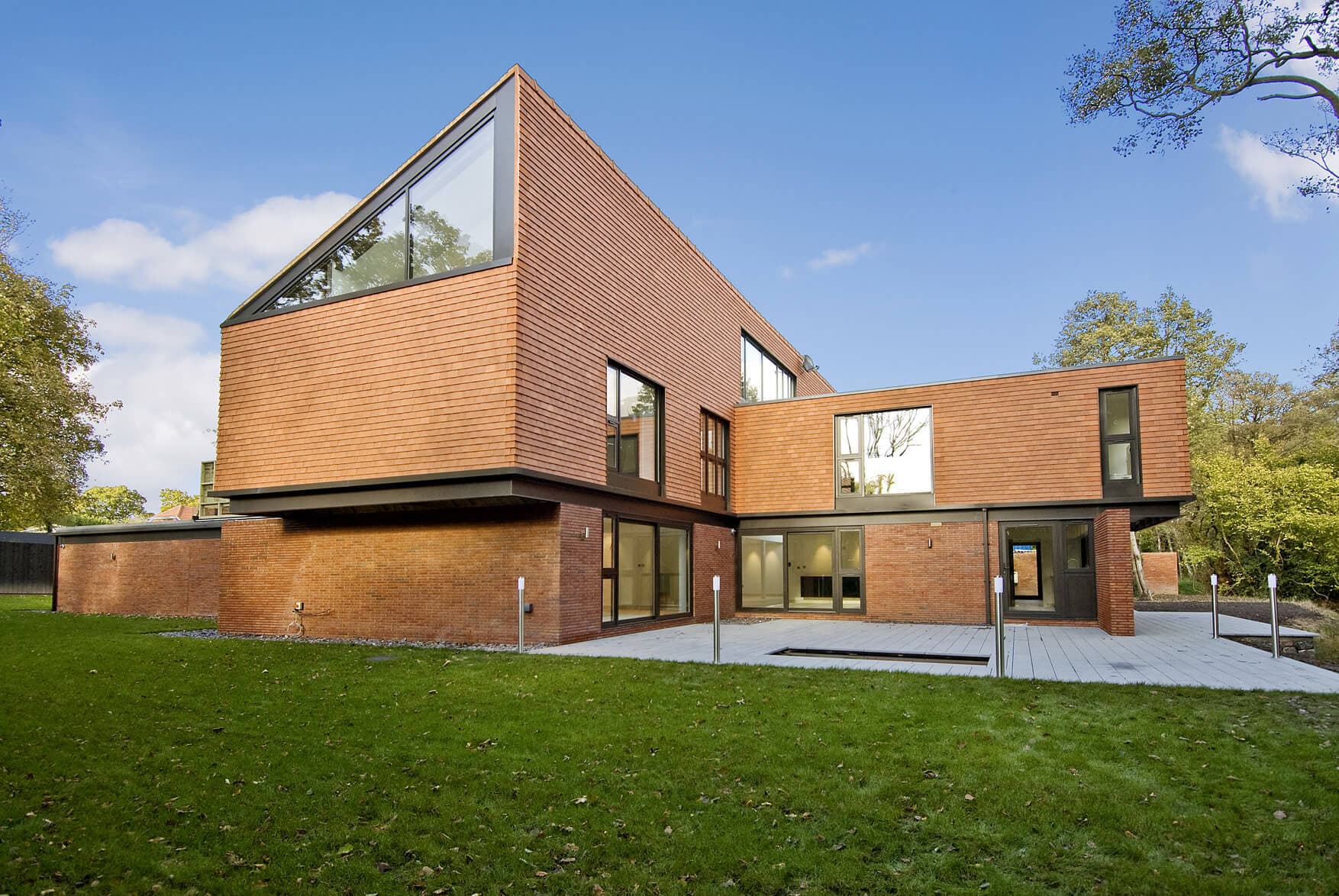 Nant Fawr Court
4 new dwellings, Cardiff
The brief for a low density housing scheme set within a secluded site in the Cyncoed area of Cardiff was for four unique dwellings that responded sensitively to each other as well as the surrounding context. The response to this brief was driven by the character of the site itself. The mature wooded surroundings to the southern boundaries created a sense of natural enclosure, which coupled with the presence of the Nant Fawr stream, gave the site a more rural than sub-urban feel. This was a rare and valuable opportunity for a new housing development in this area of the City.
The site strategy was subsequently conceived as a group of houses, visually connected by a shared architectural language and a single principal material, to give the scheme a sense of unity and coherence, rather than adopting the more common 'stand-alone', plot based approach that was typical of speculative residential development at this time.
The four houses were organised around a series of courtyards, with interlinking garden walls promoting a strong connectivity between the inside and outside spaces. The garden walls and ground storey walls of the houses are all one material: elongated, handmade bricks with raked horizontal bed joints and flush perpends to emphasise the horizontal nature of this element. Atop these walls sit the upper storey, clad in plain clay tiles, the same colour as the brickwork. The materials were specifically chosen for their weathering qualitiells, particularly important within this woodland setting where they will be allowed to stain and discolour over time.
The design of the houses themselves has been sensitively handled in terms of their massing and architectural language to form a restrained aesthetic, of simply proportioned elements within a natural environment. The high level of glazing exploits the views and creates a light and airy interior. Orientation and the path of the sun were carefully considered in the layouts and distribution of openings. Privacy with neighbouring properties has been maintained to prevent overlooking, either by distance, carefully placed openings, or orientation.
Client:

Scimitar Developments Limited

Meterage:

0.4 ha

Completed:

Completed 2008

Awards:

Shortlisted for RIBA Architecture award 2009