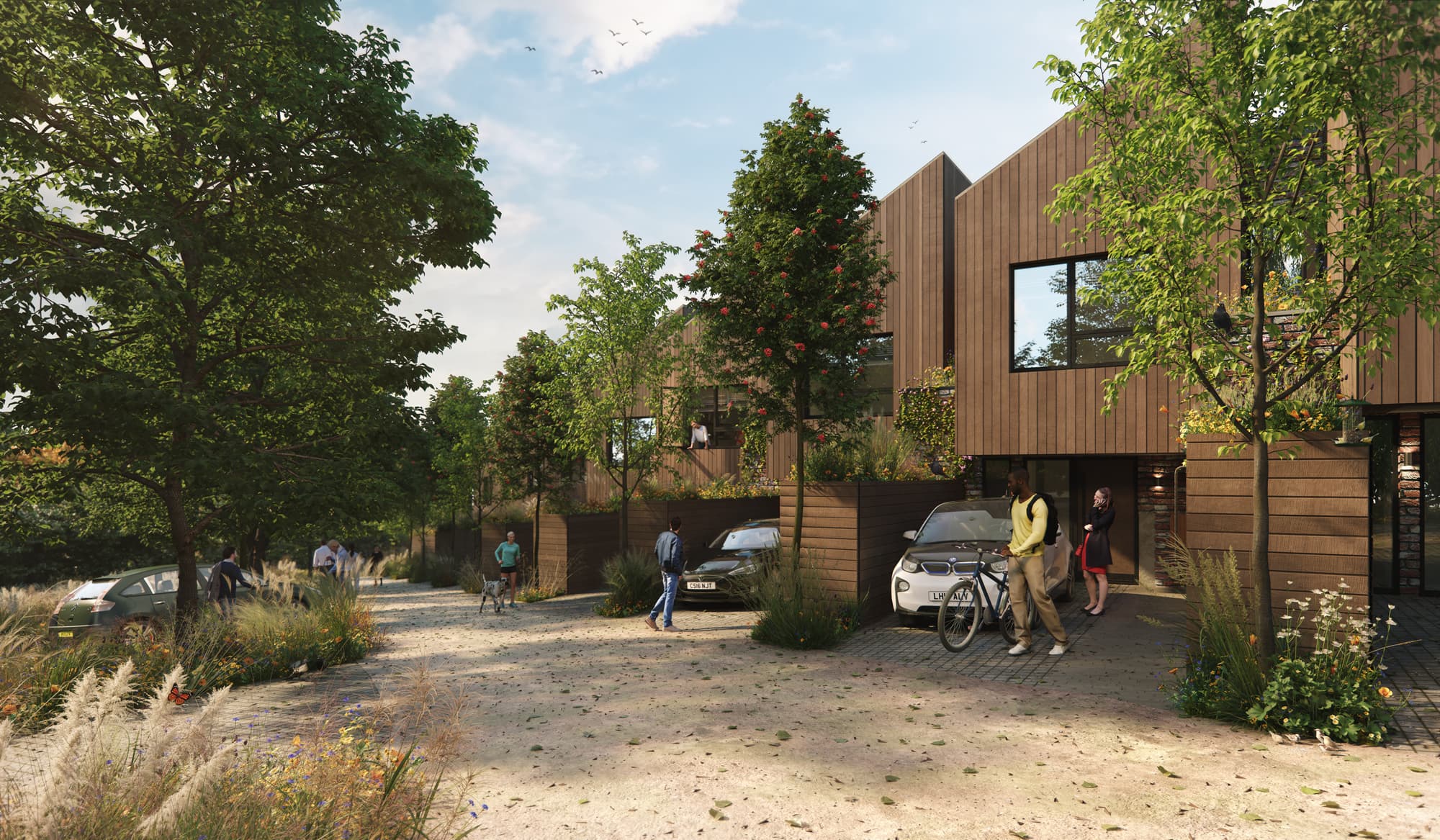 Parc Hadau
35 zero carbon homes, Pontardawe
The client is Sero Homes, a new housing developer who have set their sights on 'disrupting the status quo of the conventional house building market'. They have set out to prove that you can economically build better homes to the highest environmental standards. They have set out to build true zero carbon homes. By true zero carbon they mean: Energy in x Carbon intensity = Energy out x Carbon intensity. Sero Homes' definition of true zero carbon takes account of unregulated energy use as well as grid carbon intensity.
The design brief was to provide 35 zero carbon homes, 1 community building, 1 community guest annex /short term let for visitors.
LOYN + CO worked closely with the client and design team to provide an integrated approach to building design with landscaping. There were a number of challenging existing site features to work with, namely an ancient woodland, a stream designated as a SINC (site of importance for nature conservation) as well as sensitive wetland and grass habitats. The brief required us to design a scheme that worked with and enhanced the existing biodiversity on the site.
A key driver of the scheme right from the start was the social aspects of the scheme as well as its integration with the existing landscape. We started by placing a large communal garden or park at the centre of the scheme. We then placed terraces of houses around the edge of the communal garden. The houses are all angled 30 degrees from south to create pockets of private terrace space at the rear of each home. The Landscape approach to the site, developed in conjunction with Farrer Huxley, is key to both the sense of community and integration and enhanced biodiversity.
Meeting the performance specifications for these low-energy homes proved to be a key design challenge. For example, balancing the provision of the correct number of solar panels for each house, whilst ensuring that none were overshadowed, required careful design of the roof forms. To balance internal changes in temperature in a lightweight timber structure we have developed a detail that places exposed thermal mass in the most efficient place in the homes. The ceilings of each level of the homes have 50mm of exposed concrete between exposed timber joists. The thermal mass is in the ceiling as this provides an additional 5 degrees of cooling compared to locating it on the floor.
Public consultation and engagement with the community was also a requirement of the brief. We went well above and beyond the statutory requirements for public consultation. We held several open events with the local community and also did workshops at the local school to help get the community involved.
Client:

Sero Homes

Meterage:

1.45 ha (developable area 0.7 ha)

Completed:

Planning Consented