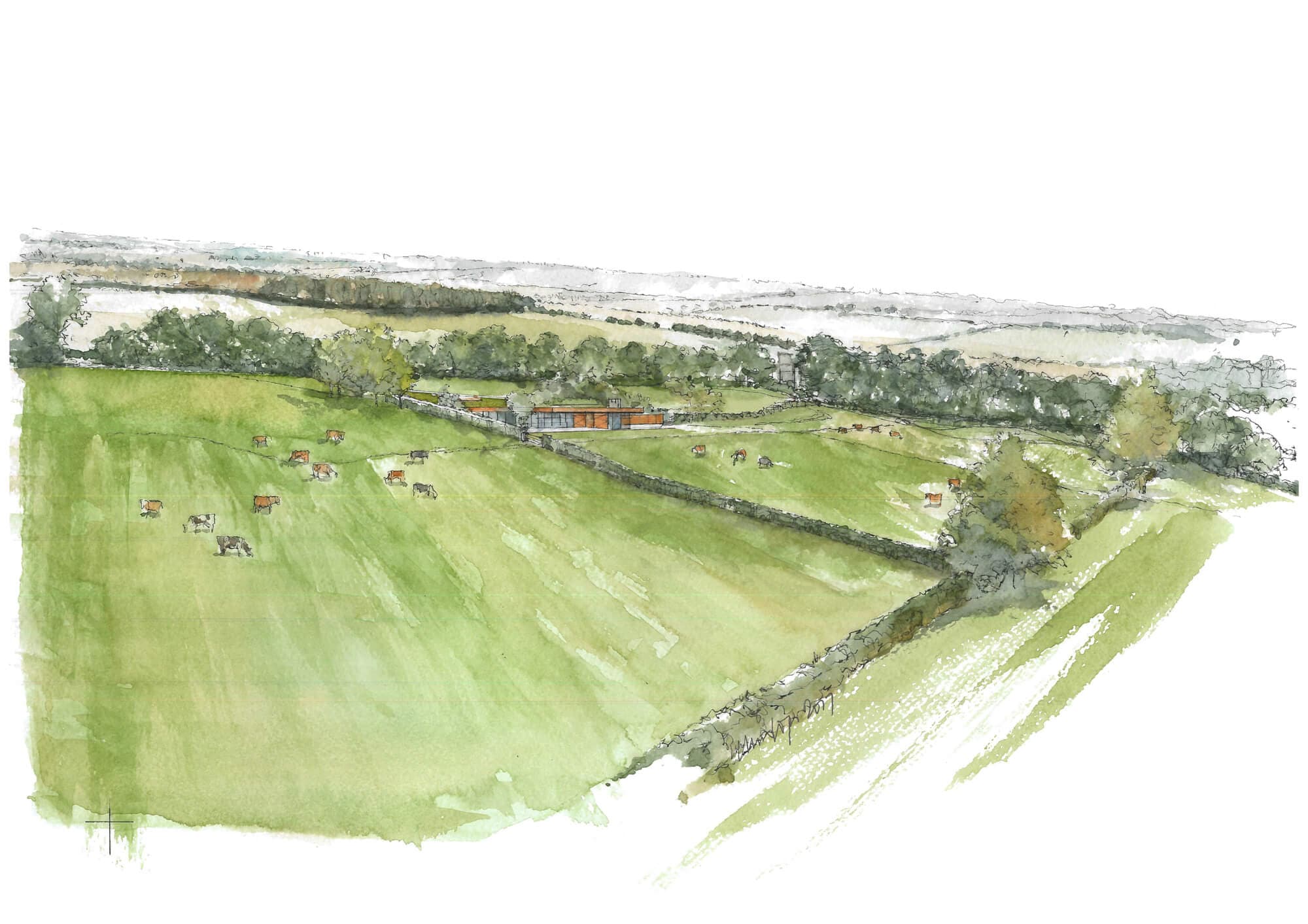 The Banks
New Dwelling, Northamptonshire
The client's brief was to design a home suitable for a young, growing family to begin their married life in rural Northamptonshire. The design was to be truly outstanding and environmentally innovative, in order to satisfy the stringent criteria of Paragraph 55 of the 'National Planning Policy Framework' – the policy that broadly allows new dwellings, of exceptional or innovative design, to be built in the countryside. LOYN + CO and the design team including Landscape Architects 'Andy Sturgeon Design' obtained Planning Consent for the client in June 2018 via delegated powers.
The form and placing of the proposed four bedroom dwelling are derived directly from the analysis of this unique site. The proposals have as much to do with the existing landscape of 'banks' and valleys (where the name of the nearby village is thought to be derived) as it has to do with the architecture. The plan form of the house reflects the unique geometry of the surrounding field patterns. Two 'landscape lines' enclose the building form - leading up to and extending from the dwelling – creating the overall, geometric form. An existing track which crosses the site from North East to South West completes the broadly triangular footprint. These existing factors (landscape, existing route and topography) dictate the overall siting and form of the building.
The proposal fully satisfies the stringent criteria for a Paragraph 55 dwelling, both in terms of the quality of architecture and in relation to its zero carbon design. The combined result is a dwelling that exceeds current sustainability standards and significantly enhances the context by way of the careful landscaping and treatment of the site. Moreover, not only will this dwelling meet the zero carbon target, but it is estimated the proposed energy strategy will displace more than six tonnes of carbon emissions per year (which is more than the total annual CO2 emissions of 2.5 new cars in the UK) and continue to do so for at least 20 years.
From the site entrance and long distance views to the site, the discrete design of the dwelling coupled with sensitive treatment of the landscape proposals aims to raise standards of design in rural areas and create a wonderful family home for our clients.
Client:

Private Client

Meterage:

475 m²

Completed:

Paragraph 55 Planning Consent Granted June 2018