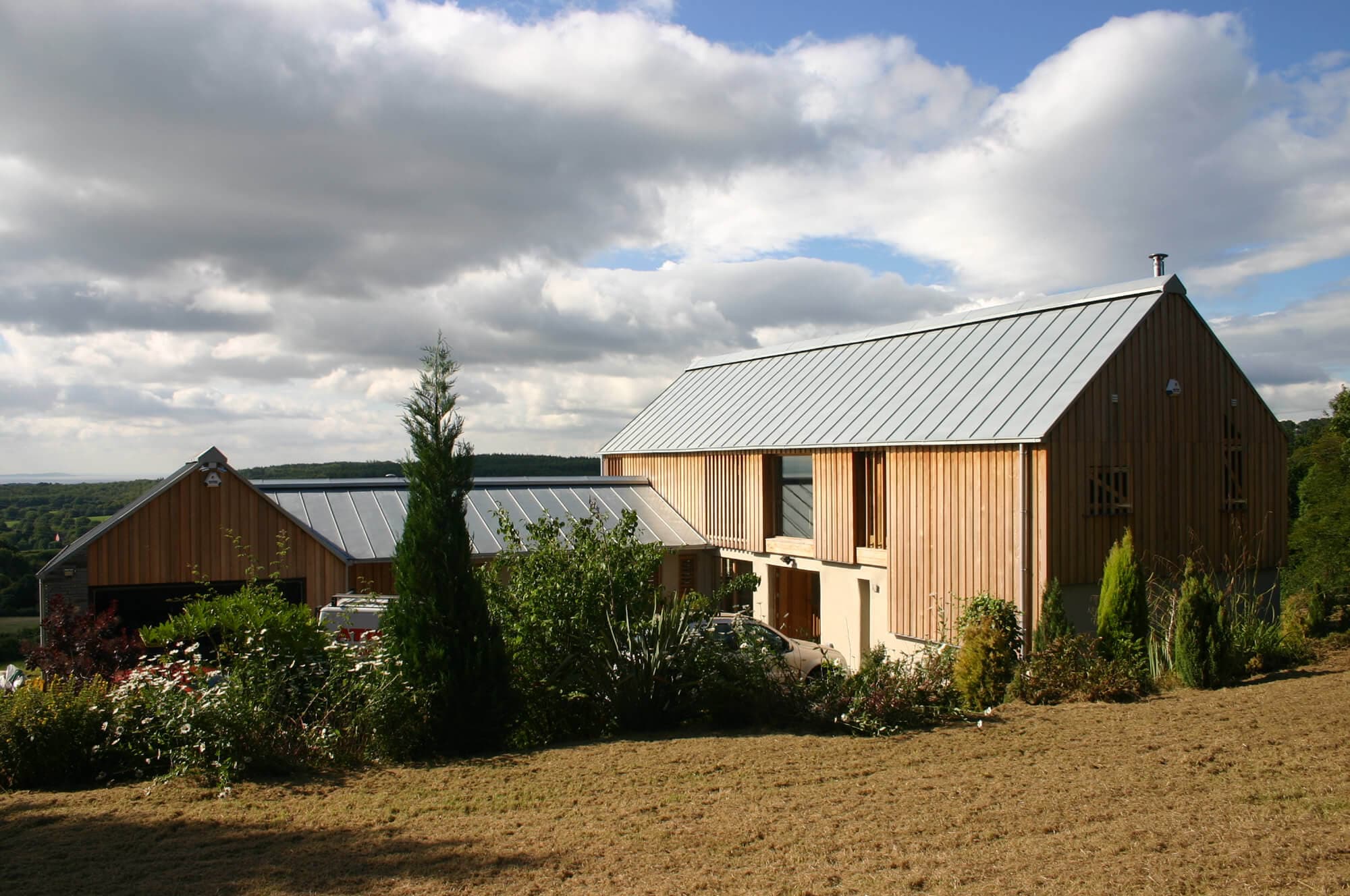 Ty Gawla
Alterations and extension to existing dwelling, Cardiff
Nestling on sloping land at the head of a valley, this existing dwelling was transformed using two contemporary timber clad 'barn-like' extensions, that echo the neighbouring agricultural buildings. The new take full advantage of the magnificent views down the valley. The cladding was conceived as a 'skin' sitting on the 'bones' of a frame. All elements are exposed at some point in the building in order to reveal the method of construction.
The main addition to the existing building comprised a first floor extension over the entire North-South central wing. For architectural, structural and environmental reasons the preferred method of construction was timber frame. Pre-fabricated panels were designed and constructed by a specialist joinery company for the wall elements, with cut timbers for the floor joists and roof rafters. Orientation was a key issue in the redesign of Ty Gawla, informing the re-organisation of the plan layout. The location of habitable spaces was arranged around the path of the sun and the desired relationship of internal rooms and circulation within the home.
The Southern side of the building has large expanses of glazing to benefit from solar gain and frame panoramic views down the valley. The highly insulated Northern elevation is more solid with fewer openings. The natural ventilation of the façade and roof is carefully controlled. This ensures a clean connection between the timber and zinc at the eaves level and eliminates the need for proprietary vents. A 25mm gap at the base of the timber façade between the cladding and aluminum drip channel allows air behind the 1st timber panel to travel through a 25mm void (created by the layers of cedar) and into the roof space. This provides ventilation for the zinc. The stone walls have been constructed from off-cuts of locally sourced blue pennant stone. In a reverse from traditional stone walls the cut face is placed between the joints. This gives a clean, sharp and smooth finish to the façade and creates strong horizontal patterns.
Client:

Private Client

Meterage:

600 m²

Completed:

Completed 2005

Awards:

Winner of the Welsh Housing Design Award 2006, Shortlisted for RIBA Architecture award 2006, 2007 Grand Designs Award – Shortlisted - Best Remodelled House UK.