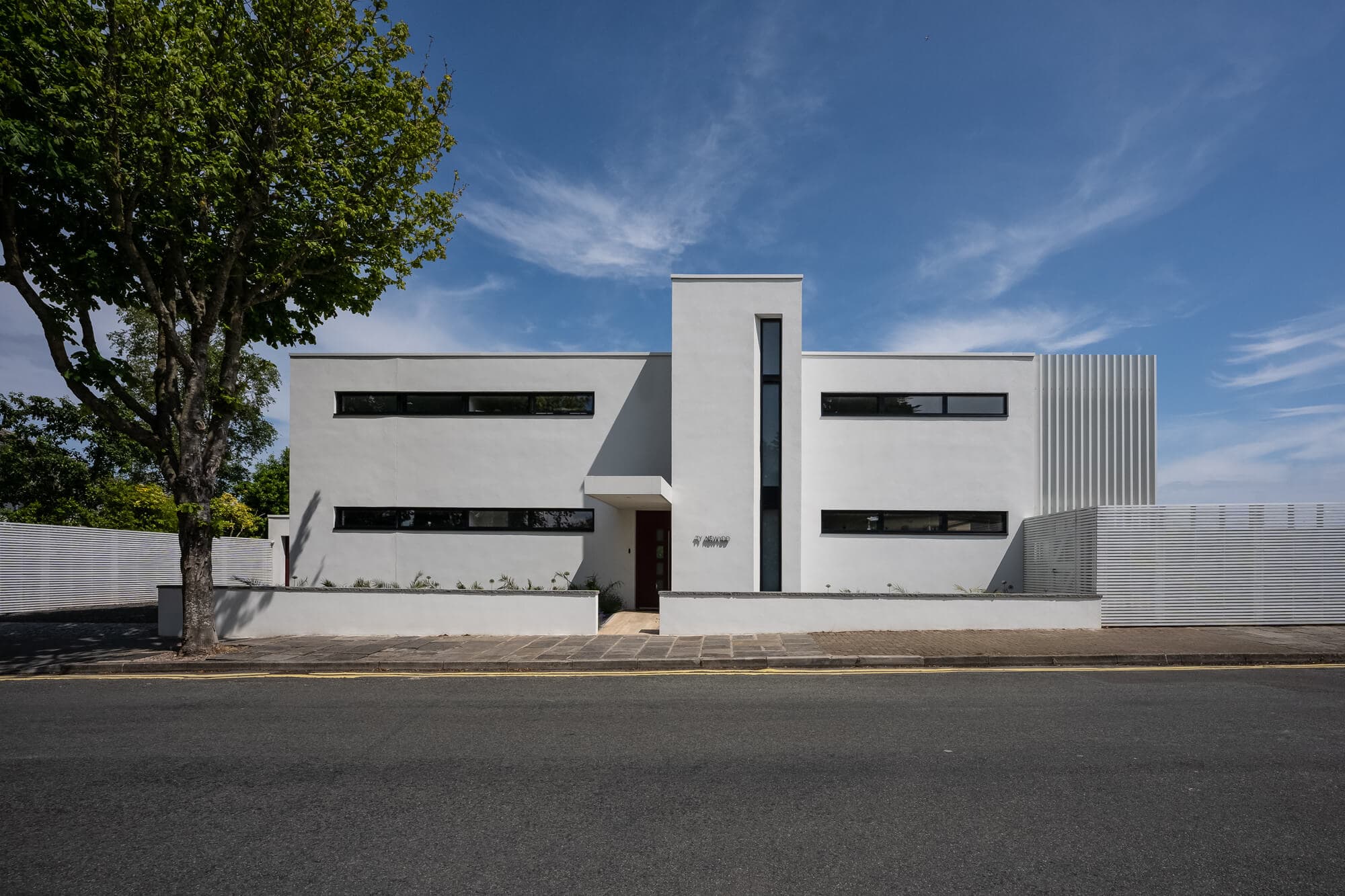 In 2016 our clients fell in love with a spectacular cliff top site overlooking the Bristol Channel and bounded to the south by the Wales Coastal Path. This prominent site was occupied by an inefficient, poorly designed and constructed 1970's house and detached garage that failed to take advantage of the site's potential. Situated opposite a Listed Building and close to a Conservation Area we were selected to design a replacement dwelling that did the site and the client justice and harnessed the wonderful views.
The original house was positioned in the middle of the site and the garage and parking were to the south not only obstructing the view but taking up the sunniest part of the site. The key design principle was to relocate the house and garage as far north as we could to maximise the south facing garden. As the area is populated with a variety of Art Deco dwellings, a particular passion of the clients, we set about designing a contemporary home with a nod to the Art Deco heritage of the area.
Given the potential of the views the other major design principle was to design the house partially 'upside down'. The kitchen is located on the ground floor with direct access to the garden and the living room is on the first floor opening onto a large south facing terrace where you can sit out and take in the view. These two key spaces complement each other with the south facing terraces at each level. These provide shade and long distance views as well as covered outdoor areas for those rainy days.
Externally the house is a stark white render with aluminium fins and overhangs. The house has a strong horizontal emphasis with linear slot windows emphasising the horizontality. These horizontal windows also reference the horizontal ribbon windows and balconies which are characteristic of Art Deco buildings. This main horizontal mass of building is then intersected by a contrasting vertical mass. This vertical element forms the main circulation of the house with a dramatic stair and triple height space to the rear of the building. The stair has generous landings where you can pause and take in the view of the sea as you ascend.
LOYN+CO were appointed in 2016. Planning was granted for this replacement dwelling less than a year later in summer 2017. The Construction took approximately 15 Months. Constructed from a combination of traditional blockwork cavity construction, with timber floors and roof, the dwelling is also designed to benefit from the sites orientation and aspect through high levels of glazing and photovoltaic panels concealed at roof level.
The result is a sensitive, yet modern addition to a prominent cliff top site, positively contributing to the vast range of architectural styles located along the coast with a specific reference to Art Deco yet in a contemporary manner reflecting how we live now.
Client:

Private Client

Meterage:

231 m2

EPC:

93/100 (A)

Completed:

Completed 2020