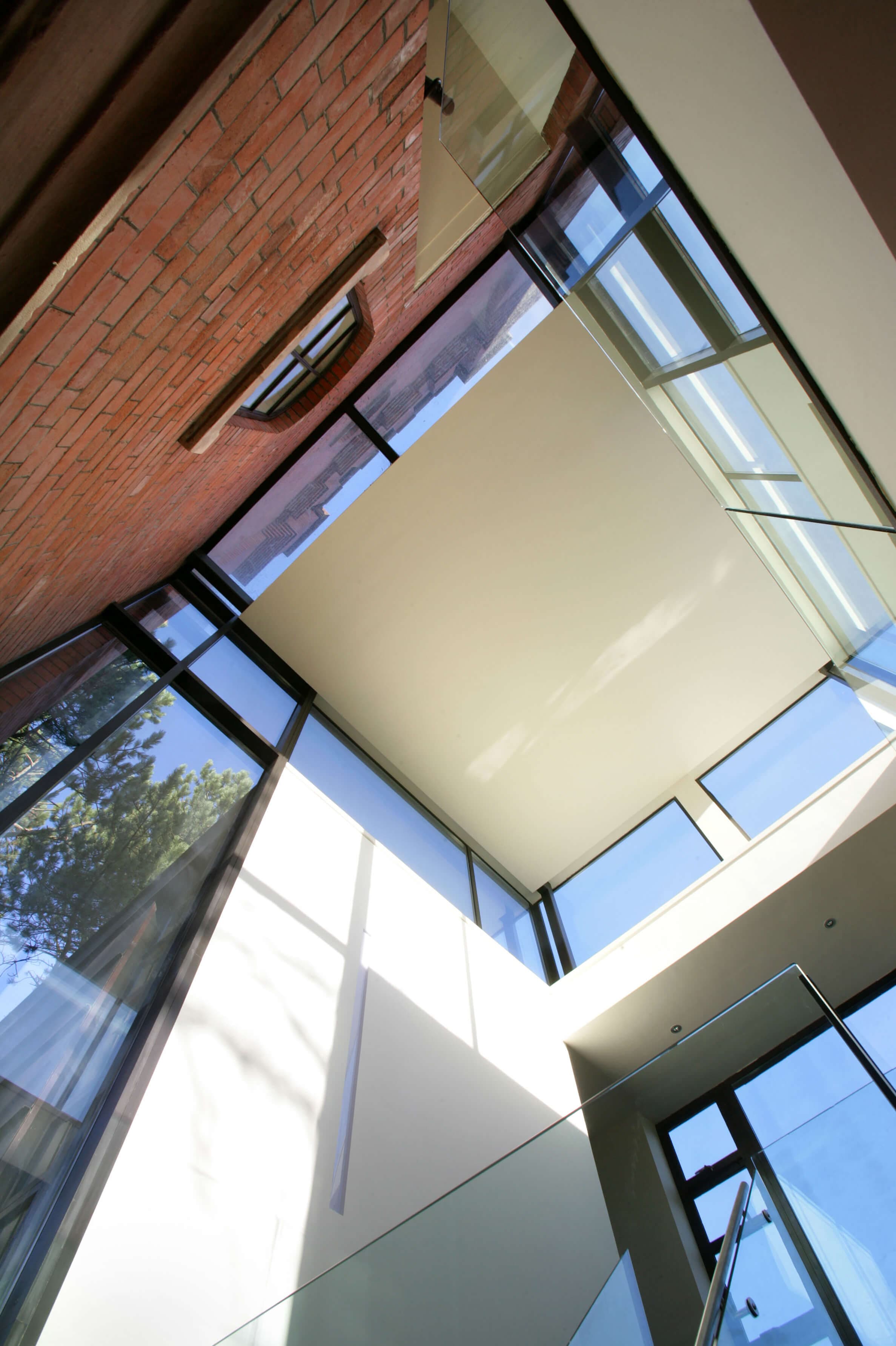 Watertower
Residential Conversion of Grade II Listed Building, Cardiff
The project is a conversion of and extension to, a landmark existing Grade II listed water tower to create a single family dwelling. The existing red brick tower was constructed in 1898 and its original use was as a pumping station for the covered reservoir adjacent, now removed. The visual strength and beauty of the Watertower is such that any addition made to it needed to be distinctly different, contrasting in form, massing and material in order not to compromise the original structure.
The addition took the form of a 2-storey 'T' shaped extension, composed to give horizontal emphasis, lying low against the verticality of the tower. The contemporary elements are clearly defined both in form and in terms of material selection and are located primarily to the rear of the tower and remain subservient to it. The new construction is detached from the tower, achieved by inserting a glazed 'sleeve' at the point where the new touches the existing. The exposed existing red brickwork of the Watertower at this location is left expressed internally, in the 2-storey glazed hallway. The first floor connection is via a 'bridge' linking the new extension to the old Watertower across the double height void space. The external roof terrace at the top of the tower provides views across the city and towards the Bristol Channel. It also provides a view beneath your feet into the 3-storey void running the height of the tower.
Apart from introducing tall, slit windows into the existing masonry recesses, the external fabric of the tower itself remains virtually untouched. Extensive refurbishment and sensitive repair work was undertaken on the existing brickwork to return the tower to its former glory.
Client:

Monnow Developments Ltd.

Meterage:

258 m²

EPC:

TBC

Completed:

Completed 2006

Awards:

2007 Eisteddfod Gold Medal, Shortlisted for RIBA Architecture award 2007, 2007 Grand Designs Award – Best Restoration Project UK, Winner of the Welsh Housing Design Award 2007, 2006 Cardiff Council Building Control Quality Awards.